I remember a really hot phone chat I had with Tony a while back. He came in to discuss the problems with the TPS reports, and fairly soon, we had spreadsheets all over my desk. Soon, those spreadsheets were spread hither and thither, and I was longing for some sheets under my spread legs, as he began fucking me on my desk.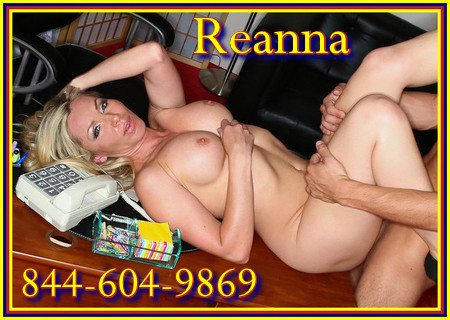 It got really hot when he lifted each of my legs up over his shoulders. He initially started just ramming into me with each of my legs over each one of his shoulders, but then he swung both legs over his left shoulder and gripped them tightly, making my wet cunt even tighter and stimulating it past bearing. My pussy had been open and welcoming to him before, but now he felt a tight tenseness. He placed my legs back over either shoulder and climbed up on the desk, pinning me beneath him. My thighs were pressed against my stomach and chest, and he trapped me so tightly that I could barely breathe. "Who's the boss now, bitch?"
"You are," I gasped. He started sucking on my big bouncy tits as he began again to plunge himself into me. I could feel his balls slapping against my ass. He straightened up on his arms and began fucking me hard, pile-driving me into the desk. I finally could catch some air, and unable to help it, I began screaming as I came, hard, there in the office. His cum squirted into me and dribbled out onto the spreadsheets and TPS reports underneath me, ruining them all. Guess we had bigger problems with the reports than we'd previously thought! I'm pretty sure he'll be calling my phone chat lines again soon!