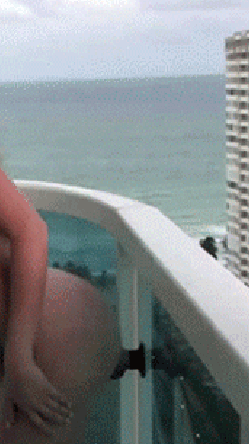 The beach makes me so fucking horny. The smell of the salt air. The sight of bodies glistening in the sun and covered in coconut scented oil. Women in swim suits that barely cover nipples and hot asses hanging out. Bodies covered in sand that I just want to rub up against. All the sights and sounds, it's sexual, sensory overload.
I was up in my hotel room, fresh out of the shower and looking out of the sliding glass door on my balcony at all the beautiful people crowded on the street below, with their sun kissed skin and I just couldn't help myself.
I had just fucked my aching pussy with my suction dildo in the shower but I still wanted more.
I went straight to the shower and grabbed my dildo off the shower wall and walked right out to the balcony. It was the middle of the day, the walls of the balcony are glass and everyone below could see me in all my glory.
I stuck that dildo to the balcony wall and backed my naked ass up to it.
Now my dripping wet pussy was being satisfied knowing that I was putting on one hell of a show for all the beautiful people below me.
In no time at all my juice was dripping down the glass and I was cumming so hard I was squirting.
Time for the grand finale. I turned around and got on my knees licking my cum off the glass and sucking my dildo clean.
I think it's time for a nap before I go out for a nice seafood dinner.